One question I get asked again and again is what to feed kids for dinner, and how to make meals that are quick AND nutritious. Enter your pantry. This is where the magic happens. If you have a pantry stocked with healthy items that can be incorporated quickly into a kid-friendly meal, then you've almost entirely solved the problem of what's for dinner.
Here are 10 great busy-mom and kid-friendly food items we keep in my pantry. Many of these items can be served without the need to cook! Everything is meat-free, dairy-free, and gluten-free. Buy in larger quantities and you will have what you need when you need it.
I like to stock up on these items at my new favorite online store, Thrive Market. Thrive sells healthy food, supplements, and natural body care products for up to 50% less than Whole foods and other brick and mortar stores. What I love about Thrive is that their prices are usually lower than Amazon's and you can buy food products in everyday sizes. You can try Thrive for a free month and get 25% off your first order, plus you get free shipping for every order over $49. The annual fee is $59.95, which you will make back in savings.
1. Canned Salmon and Sardines
High in protein and loaded with heart- and brain-healthy Omega 3 fatty acids, canned salmon and sardines are a great basis for dinner. They are also high in vitamin D and calcium. I avoid tuna because of the mercury content. The canned fishes are wild-caught, not farm-raised, which is healthier for you.
How to serve them? Make salmon salad like you would tuna salad (i.e. add mayo and whatever else you like). Serve salmon salad with veggies and whole grain crackers for dipping. Another idea: My kids love what I call "fish in a boat"–which is a couple of scoops of salmon salad in a romaine lettuce leaf (I just cut both ends of the leaf off and leave the crisper middle section). You can also make salmon patties, salmon tacos, and crumble salmon on top of a salad. Sardines can be served as is. For a full meal, add a starch, like potatoes or rice, and veggies. I buy these at Thrive and at big-box stores to save money and I look for brands that use BPA-free cans (such as Wild Planet). BONUS: no cooking necessary!!!
Tacos can be nutritious, filling, and fun. Keep a few boxes of shells around and you can make tacos with all sorts of things you already have in your fridge or pantry! We enjoy making tacos with canned salmon and refried beans (which are both on this list) as a base. Then we add shredded romaine, avocado, mild salsa and sour cream. Voila–a whole, balanced meal and you don't even have to cook a thing. (I briefly heat the tacos in my toaster oven to soften them so they're easier for my kids to eat.) Preferably, buy organic or at least non-GMO taco shells, like those made by Garden of Eatin. Serve blue and yellow tacos to make "Taco Night" even more fun.
3. Canned beans 
Beans are some of the healthiest foods in the world, and because they come packed with fiber and protein they are super filling. They are also versatile. The great news is that no cooking is necessary. Here are some ways you can serve them:
Sprinkle them on salads.
Mix them with rice or quinoa for a complete protein.
Serve beans with your kids favorite sauce or dressing.  I like using olive oil, lemon juice, and a little salt. Or, add soy sauce, which I sometimes combine with turmeric.
Make (or buy pre-made) refried beans for  tacos (here's a quick and yummy recipe).
Make chumus and serve with veggies or corn cakes (see #4 below).
Briefly saute  beans in a favorite sauce if you prefer them warmer.
Preferably, buy organic, make sure there are no additives, and, buy brands that do not use BPA lining. You can also buy beans in cartons or bags.
4. Corn Cakes
Corn cakes are crispy yumminess and can be served plain as a snack or part of a meal. We like to spread them with almond butter and honey; chumus; salmon salad (see # 1 above) and, my personal favorite, a little mayo and mashed avocados. We avoid rice cakes because of the presence of arsenic in rice, which I've reported on here. Preferably, buy organic, or at least non-GMO. Real Foods' Corn Thins are the tastiest and crispiest ones I've tasted, IMHO.
5. Quinoa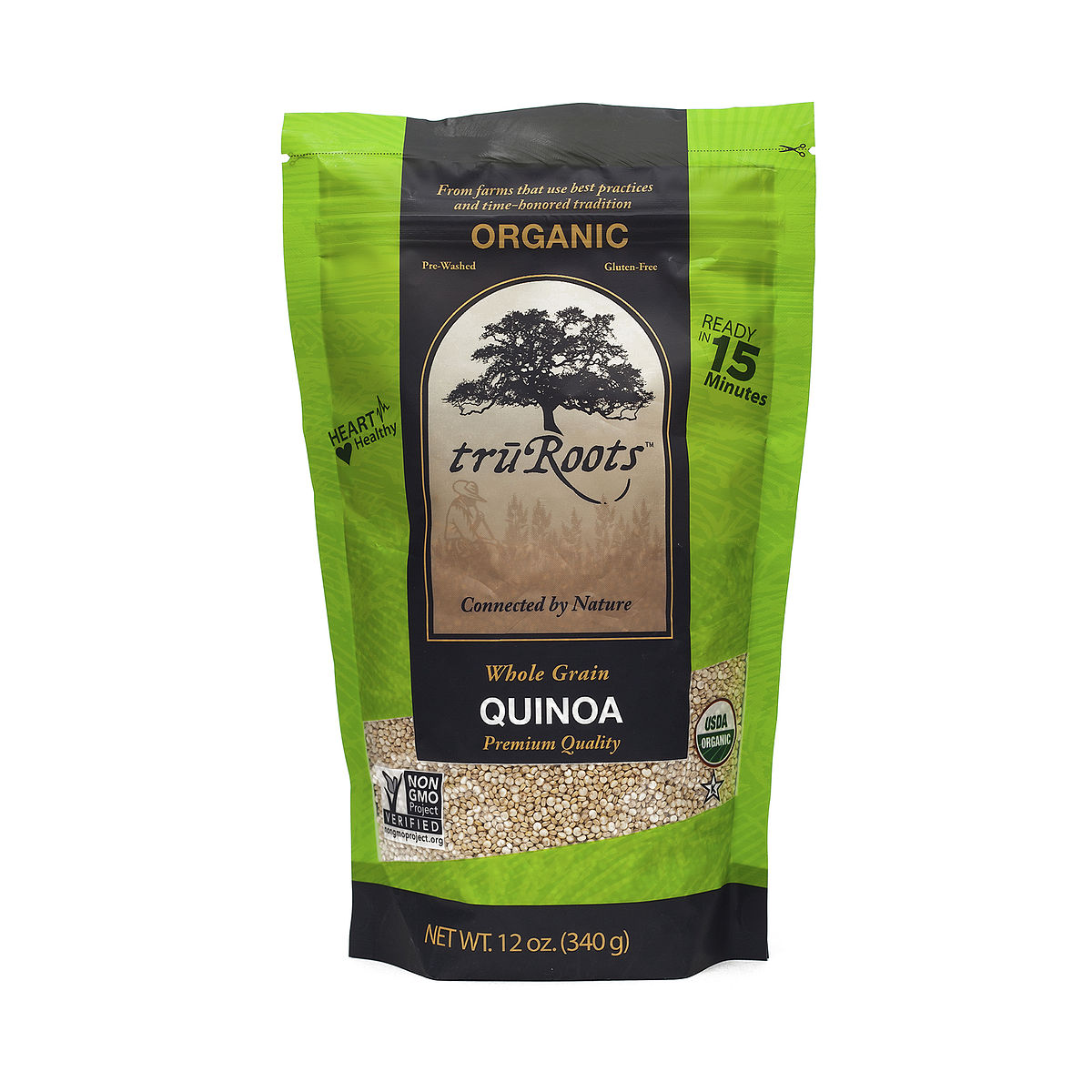 We make and serve quinoa at least once a week. It's a full protein, iron, fiber and phytonutrients (among other things) and, as I am sure you've heard, it's been called a "superfood." There are so many great recipes on the web. I like to prepare quinoa and then sautee it in oil (I use avocado oil for this reason), with onions and garlic. Then I add other sauteed veggies like mushrooms, carrots, and/or peas. Another thing I love to do with quinoa is to mix it into a regular green salad. It adds bulk, fills you up,and absorbs the dressing, making it super tasty.
6. Nuts 
We always have a variety of nuts on hand for a quick snack. Full of protein, they are great when you need a pick me up or to quench a craving. My kids enjoy them, too. Sometimes, we make them part of meal, with cut up pieces of fruit or veggies. I like to buy them raw so that none of the nutrients are destroyed during the roasting process. Important note: so many kids have nut allergies these days that we eat our nuts at home or in the car. We avoid taking them into public places.
7. Mung Beans
I buy dried mung beans in the bulk aisle at Whole Foods and other health food stores. Mung beans are super easy to sprout. Read this post on how to sprout mung beans (all you need is a glass jar, water, and a paper towel!). Then read this post for ideas on how to serve them (so many ways–plain, in salads, in dishes, etc.). Note: don't buy sprouted mung beans; buy dried, like in the photo above, and sprout them yourself for maximum nutritional punch.
8. Lentils
Lentils are are a low-fat, low-cholesterol, nutrient-rich substitute for meat. Unlike dried beans, they do not need to be pre-soaked, are less gas-producing, and can be cooked in under 25 minutes. We use lentils to make soups, add them to quinoa, and prepare them sauteed alone or with veggies. You can read my post, "Ode to Lentils," to get recipes and the full list of why lentils are so awesome.
9. Veggie Broth
I always have a few boxes of organic, low-sodium veggie broth on had to make quick and easy veggie soups. Also, quinoa and rice tastes better when it's boiled in broth. I like the Trader Joe's brand and the Pacific brand which is found in most super markets. Organic boxed chicken broth is also available, if you prefer that.
10. (Healthier) Prepared foods
Let's face it: as easy and quick as it is to prepare the above foods, sometimes we just need something that's ready to go. The key is to choose prepared meals that have ingredients you can pronounce and recognize, no additives/preservatives, and minimal sugar. Most packages foods are high in sodium–but if you generally eat a healthy diet and have no reason to pursue a low-sodium diet, then occasional splurges like these should be find.
Organic soups: Pacific brand has many flavors and is found in big box stores and most markets. My kids and I enjoy the creamy tomato flavor.
Indian prepared meals: Found at super markets, big box stores and Trader Joe's, prepared Indian meals like Madras' brand and Trader Joe's brand may be in high in sodium, but typically contain more or less healthy and pronounceable ingredients.
I hope you enjoy these suggestions and look forward to hearing about your favorite pantry items! Please share!